OK y'all I'm super excited to do my first currently hosted by Farley at Oh Boy 4th Grade!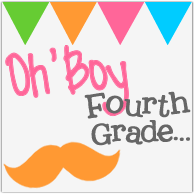 I'm a little late...but hey it is July 1st isn't it??! Here's what I got for y'all...
Listening: My husband and in-laws are chatting after we had a nice taco dinner. It's kind of late but it's been a whirlwind of a day. My in-laws come over often and usually stay no less than 2 hours at a time...not complaining! They are awesome!! My mother-in-law helped me so much tonight: held my crazy 9 month old so I could finish dishes, bathed him and read to him so I could get some more work done...yay!! ;)
Loving: Jackson does NOT go to sleep sweetly...he hates to sleep and will do whatever he can to avoid it. So tonight, he went to sleep quickly and quietly...very rare! So happy though.
Thinking: Jackson is having ear surgery tomorrow. He's getting tubes because he has had recurrent ear infections. I feel so bad for him! I hate ear infections, they're the worst. And as a parent, you really can't do anything to help them other than some numbing drops and antibiotics. It's so sad...I'm praying that his new tubes will solve the problem and he will be all better real soon! All prayers are welcome!! I know it's a pretty routine procedure but I'm a mom, I worry!
Wanting: OK so this currently seems to be all about my 9 month old...lol...sorry!!! He is kinda taking up every aspect of my life right now. Because of his ear infections he hasn't been sleeping through the night and he has slept through the night since 7 weeks old...so it's been rough. I feel so bad for those parents who have kids who never sleep through the night. It's EXHAUSTING! I'm crossing my fingers that these tubes do the trick so we can get my little boy back on his awesome, sleeping through the night routine.
Needing: Alright so I think I'm taking the longest route to move in to my house. If you follow my blog you know I moved back in March...well...things are still not where they should be. It's been tough because we did a lot of painting and redid some floors and the baby got sick with ear infections...so organizing and decorating has been put on hold. However, I really need to get my booty in gear so that this summer doesn't slip away from me before I know it. I've set some goals for myself (I'll share these later) and I'm trying to organize my office so that I have a nice, cozy and inspiring place to work/blog/read/regroup/create, etc. I found some AWESOME Pinterest inspiration:
I'm going for somewhere in between these two pins...organized but girly. We shall see...gosh I love Pinterest...what did we do before Pinterest??!
Tips, Tricks and Hints

:

Make products that you would LOVE for your own room. I found that if I wasn't really excited about something, it didn't come out that great. My best selling unit has been my "Magnet Mania" unit because I was really excited about jazzing up boring old magnets for my kids. My district had a crummy science curriculum and I spent a lot of time making my own unit and it was really easy to make and has done really well on TPT. If you aren't excited about it, don't waste your time!!
Alright ladies...stay tuned because I might have a freebie tomorrow...we shall see. Make sure you go back to Oh Boy 4th Grade and check out some more "Currentlys". Prayers for my baby if you can!! Night night!